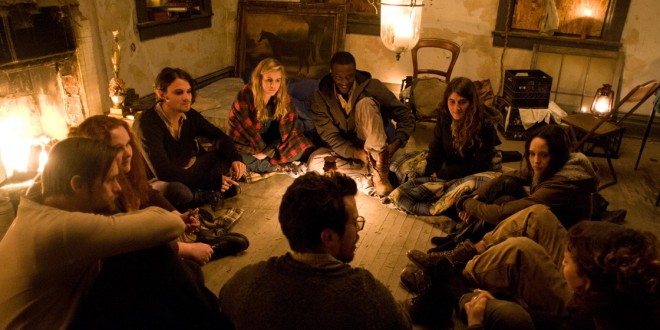 Alexander Skarsgard was busy during the long hiatus between True Blood seasons. A little film called The East will debut at Sundance Film Fest in 2013. Skarsgard is seen in this first look at the film, which doesn't show much at all. This could either be a group of geniuses hatching a plan or a group therapy session. Here is the short synopsis from Sundance:

Someone is attacking big corporate CEOs and forcing them to consume harmful products they manufacture. An elite private intelligence firm is called into action and contracts ex-FBI agent Sarah Moss (Brit Marling) to infiltrate a mysterious anarchist collective, The East, suspected to be responsible. Skilled, focused, and bent on success, Sarah goes undercover and dedicates herself to taking down the organization. She soon finds, however, that the closer she gets to the action, the more she sympathizes with the group's charismatic leaders.
The film stars Brit Marling, Ellen Page (!), Toby Kebbell, Shiloh Fernandez, Patricia Clarkson as well as Mr. Skarsgard. The East is written by Zal Batmanglij and Brit Marling; directed by Zal.
Sundance Film Festival opens January 17 and runs through the 27th, 2013, in Park City, Utah.