Forks Looking to Make Twilight Museum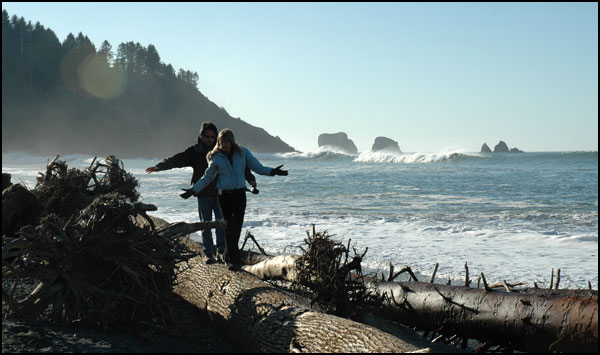 A first step in gathering a collection for the museum is underway. Colandrea said an unnamed donor has supplied the funds to bring an arch used as a main prop in the filming of "Twilight," the first film in Summit Entertainment's five-film Twilight Saga series. The arch is being brought from Oregon and will be placed in storage for now.
Plans for the three-day 2012 Stephenie Meyer Day event are already scheduled she said, and will include a Twilight-themed film festival this year. Its main event will be a nighttime reenactment of the wedding of Twilight lead characters Edward Cullen and Bella Swan, featuring costumed characters.
The extensive collection of Twilight film props owned by collector John Henson will also be on display, she said. Henson plans to sell the prop collection following the release in November of the final scheduled Twilight film, Breaking Dawn Part 2, she said. Colandrea said her committee has first dibs on buying the collection, which she said could be a key part of a Twilight museum.
She said the target audience for attracting Twilight visitors to the West End is women 30-plus years of age. This demographic has expendable income and will spend more on gifts, accommodation and dining than teenage fans, Colandrea said. However, "they expect more of an experience" than teenagers. That's where opening a Twilight museum would give them a reason to spend more time in Forks. "They need a reason to come to Forks." The key to continuing to draw the Twilight visitors is publicity and social networking, she said.
Forks Keeping the Twilight Mania Alive With Twilight Weddings
he Town of Forks is looking at keeping people interested in the town now that the Twilight movies are winding down. They have an angle planned involving the weddings and they have purchased the prom arch used in the movie.
A new event this year will be Twilight weddings.
Thirty people can have weddings performed — or vows renewed — on three days in August, leading up to Aug. 13, the date Bella Swan married her vampire swain, Edward Cullen, in "The Twilight Saga: Breaking Dawn Part 1," which was released in November.
"The wedding will look just like the wedding from the movie," Colandrea said.
Couples will be surrounded by wisteria, and ceremonies will use an arch that is a copy of the one used in a parody of the movie on The Hillywood Show at www.thehillywoodshow, an Internet site known for its spoofs of the "Twilight Saga."
The ceremonies — up to 10 each day — will be performed by Colandrea's husband, Nino, who is a non­denominational minister.
No site has been confirmed yet, though "we're negotiating with a few people to get an outdoor site for the weddings," Colandrea said.
Nevertheless, reservations are being taken now through June 13.
The fees are $1,595 on Saturday, Aug. 11, $1,795 on Sunday, Aug. 12, and $1,995 on Monday, Aug. 13.
The Twilight weddings would be performed after the June 7 effective date of a new state law legalizing gay marriage — though the date could be delayed if opponents are successful in taking the issue to the voters.
If gay marriage is legal by August, "we're open to everybody," Colandrea said.
For more information about the weddings, visit www.twilightweddingsinforks.com or phone 360-374-0358.